Frequently Asked Questions about the Analogue
to Digital TV Switchover
What is the digital switchover?
In parts of Australia, TV is broadcast in both analog and digital signals. The 'switch' refers to how the analog signals are being phased out (or switched off) across the country from now until the end of 2013. This means that Australian TV will be broadcast using digital-only signals. We can help you make the switch to digital now before the analogue signals are switched off in your area.
Are you prepared for Digital Switchover? (freeview)
There's no need to wait – you can switch to digital right now. However you do need to be digital ready by the time the switchover is completed in your area, or you won't be able to watch TV. For more information about Digital TV and how Brocky's TV can help you switch, click here.
When is the switchover happening?
Digital TV is currently available in most areas of Australia – and this means there are more free-to-air channels that you could be watching right now. You can use the Myswitch application to find out exactly what services are available in your area and when your region will switch off analog television. There is also a Roll-out map that shows an overview of our country's progress toward a digital only environment.
What will happen on the day
analogue television is switched off?
We have seen from previous areas of Australia that on the day of the analog switch-off there is no warning whatsoever, instead you will be watching analog television, and then the screen will instantly go completely snowy – just as if somebody pulled out your antenna cable! The best option is certainly not to wait for this "last minute" scenario and talk to us about switching to digital tv as soon as possible.
Do I need a new Antenna?
In most cases we do not need to do anything more than plug in your new TV or Set Top box and do a manual tune to receive the digital channels. However if your signal is not currently giving you an acceptable analog picture, it is very likely that digital television will not work correctly either.
All you need to understand that digital television requires a certain amount of signal quality to work, if the signal received by your antenna system is above this quality, it will give you a perfect picture, however if your signal breaks-up or pixellates, then you may need to increase the quality; This is our specialty so click here to arrange to speak to someone on our team to discuss how we can help you.
How do I know if I am watching digital TV?
An easy way to tell if you are watching HD Digital TV, is whether you can receive 7mate, GEM & ABC News 24. These channels are currently being broadcast in High Definition quality. They should appear as a perfect picture and should not break-up or pixelate (except in some fringe areas).
Will digital television work with an indoor antenna
or 'rabbit ears'?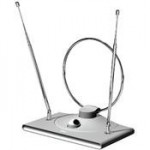 In most cases the answer is No. Because digital television requires both strength and quality of the signal being received, you will need to plug the  digital television or set top box into an actual wall-socket that is connected to a domestic antenna on the roof. New sockets can be installed easily and prices can vary depending on the wall type and conditions, your current antenna system and some other variables. The GOOD news is: We handle situations like this every day – so it's a problem easily solved with help from the Brocky's TV team.
What if I cannot receive a digital signal at my location, no matter what have done to the antenna?
If you are unable to receive digital free-to-air television via an antenna on your roof, or if you are travelling Australia in a motor-home, you can still receive  all the digital freeview channels via a satellite set top box. This will supply perfect pictures of all channels you would normally receive from a domestic antenna on your house. Click here for more details. You may even find that the satellite option may give you more channel choices than a local terrestrial signal.
"I live in an apartment block of units, who's responsibility  is it to fix the reception problem?"
If you live in a community antenna situation such as a unit-block or high-rise building,  it is the body corporate that is required to fix this reception issue as the outcome will obviously benefit everyone in the complex. The common procedure is to complete the form found here, and submit this to the resident manager or to your body corporate representative.
You can also contact our sister company BTV SOLUTIONS by clicking here for more information.
Brocky's TV specialises in New home antenna installations, Digital antenna upgrade, Digital antenna repair, detailed antenna system report, TV wall mounts, TV setup, Amplifer setup, Home theatre setup and  Written instructions to perfectly match your home setup. Brocky's TV is leading the way as the Fringe Reception Specialist having all the latest fringe area antennas to get the best reception from your Home. Having Specialists in your local areas Sunshine Coast, Brisbane, Gold Coast and Tweed. You can Book Online or Call our 7 day toll free number today.